Trusted By
1,000+
Professionals

Helping Companies Save $1,000s in Training Costs

Approved in All Canadian Provinces & Territories

100% Pass Guarantee for All Courses

Instant Certifications Upon Exam Completion
Fast & Affordable Food Safety Courses for All
Foodservice Professionals
Canadian Food Safety helps foodservice professionals and businesses maintain the highest food safety standards.
Our food safety courses are fun, fast, informational, and affordable, accommodating all learning styles and schedules.
These courses cover everything from preparing food to serving and storing food, equipping participants with the necessary knowledge to make a safe food safety plan, protect public health, and reduce food safety risks.
Our #1 Most Popular Food Safety Certificate Course
The SafeCheck® food handler certification course provides essential food safety training for everyone who prepares, handles, and serves food products. Additionally, it's recognized as Canada's best-value food handler course!
See What Our Past Students Have to Say
"The food safety course was an excellent intensive session that provided me with all of the information I needed to move forward and operate with the highest sanitary standards possible. The teachers were efficient and effective at teaching and made the class time enjoyable."
"I found the Canadian Food Safety Group's 1 day Food Safety Certification Course in Food Sanitation & Hygiene to be clear and concise. It included everything from food storage and preparation hazards to the cleanliness of the kitchen, to education of staff and more. I found the course to be very thorough. It included good resources and I recommend it to both new and experienced staff working in food service."
"I recently attended a Canadian Food Safety Group course. As a Manager of a fast food restaurant I was required to get my food safe certification. Domenic made this not only easy with multiple dates and locations to accommodate my schedule, his course was very beneficial and informative. Domenic is a great instructor and covered the material in a fashion that was easy to understand and retain. I would recommend Canadian Food Safety Group to anyone who needs or requires certification for food safety."
"My staff all said it was very informative & helpful and love the fact that it was only 1 day long instead of 2. Speaking from an operations standpoint, this was also a great help as it saves us a days labour. One of our staff that went was a new Kitchen Manager we had, and he said he learned quite a few things he didn't know before and implemented them immediately which of course helps us in our overall operations."
"A very informative and pain free course. The interactive and group discussion made it easier to follow along and take in information. The "real" cases and examples of food safety violations discussed made it more interesting and relevant. I would recommend this course to any future and potential staff at our bakery."
Save Thousands of Dollars On Certification Courses for Your Organization
We offer account options featuring discounted pricing structures to help reduce the expenses of food safety training for foodservice establishments or private and public schools.
Food Safety Certificates Approved Across Canada
Feel confident knowing your food safety certification is approved by health units in all Canadian provinces and territories.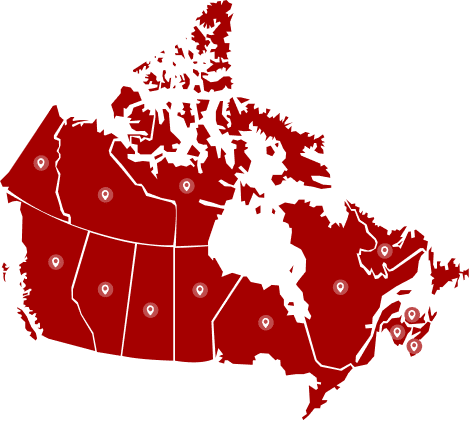 Get Food Safety Certified Today!
Ready to take your food safety practices to the next level? Obtain your certification today to protect your customers and your business.